The driving force is your work, passion, and care for kids! Keep it up @CoachHarrison2. These nominations are well deserved and just the beginning! #BONDMen
Rodney A. Harrison Jr.
@CoachHarrison2
I've been nominated for two Prestigious Awards in the last month. Not sure who the driving force for nominating me is, but thanks whomever you are, and thanks to both Frostburg State University and Bowie State University for the consideration. It's an honor and privilege!!! 🙌🏾
On February 19th, celebrate #BlackHistoryMonth2020 with @mcabsemcps and raise money for scholarships. We'll be there!
Twitter feed video.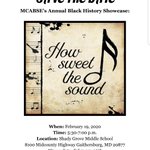 Moving our efforts into the #empowerment phase! Be sure to tell an MCPS MS or HS student about the BOND Leadership Forum for Young Men - Saturday 2/29/20!

BOND Leadership Forum for Young Men
#Elevating #Kids #Culture #Craft
www.eventbrite.com
Load More...