Cultural responsiveness and social emotional education in action. @bondeducators are making it happen supporting our young men of color!!!
Shout out to the team! Great working with these #educators every Saturday since June 27th. I am looking forward to our future programs for black and brown youth. Special thanks to my #LambdaThetaPhi undergrads who came to talk to our high schoolers today. #BONDMen #BONDBoys #ESOL
Our BOND Learning & Leading Institute proved what we know to be true; there is an undeniable positive impact when male educators engage male students! Let's have another round of applause for these brilliant, muscle bound lol, frat lovin', dedicated and impactful @BONDEducators!
Twitter feed video.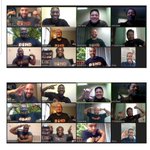 Load More...